CUBS IN THE KITCHEN 2/04-11
Porridge a la Three Bears

1 bowl of oatmeal per boy, or three small ones if you want them to try them all.

Mama Bear Porridge

Stir in 1 tablespoon whipped cream, 1 teaspoon orange zest, and 1/2 teaspoon honey

Papa Bear Porridge

Add 1 tablespoon chopped walnuts, 1/4 teaspoon molasses, and a pat of butter.

Baby Bear Porridge

Mix in 1 tablespoon mashed banana, 1 tablespoon plain yogurt, and a drop of vanilla extract.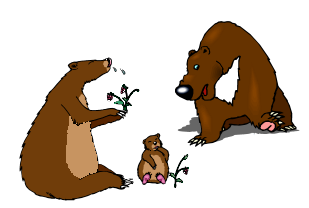 References / Source:
Great Salt Lake Council