Place several dreidels around the room for groups to play with. Give each
person 10 or 20 "tokens" (pennies, candies, etc). Each player puts a token
in the center "pot" when he joins the game. Each side of the dreidel has a
different symbol that tells the player what to do. Players spin the dreidel and
do what it says to do when it stops. Play for a specified length of time and
everyone takes home their tokens.
Nun – player collects nothing


Gimmel - player gets it all from the pot.


Hey - player collects half of the pot.


Shin - player sets one token in the pot
Players keep their "tokens" when it is time to start the meeting. The player with the fewest gets the tokens left in the middle
.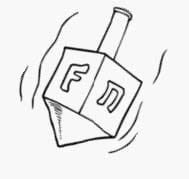 References / Source:
GSLC Pow Wow 2008