Gathering PreOpeners/04-07
PATCH OF THE MONTH

Leave No Trace Patch: Earn the new Cub Scout Version of this patch, with requirements for
Cub and Webelos Scouts. These are 'Front Country Guidelines. Requirements are found in the
Cub Scout Activities section of this Pow Wow 2003book.

BLUE & GOLD IDEAS

Activities: Speakers-oceanographer, pet shop worker, zoo worker,
fisherman, Red Cross water safety, Share "fish stories" (tall tales)
Have a dry dock sailing adventure
"Fish" races (Raingutter regatta)

Menu: "Wild Waves" Waffles & Fruit "Crustacean" Cookie & Milk
"Dorsal Fin" Footlong Hot Dogs "Shoreline" Shaved Ice
"Coral Reef" Cheese & Macaroni "Key" Lime Pie

GATHERING/PRE-OPENERS
BAIT THE HOOK

(Fishing belt loop requirement 2)
Use either a fishhook or safety pin. Buy gummy worms
or favorite fish bait. Have families race to see who can bait
the fastest

IF I WERE A FISH WHAT KIND
WOULD I BE
Give everyone paper, scissors, crayons, markers, etc.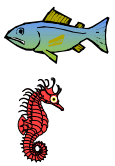 and have them design a fish to fit their personality.
Award gummy fish to all who finish their fish.
References / Source:
Great Salt Lake Council