CUBS IN THE KITCHEN/04-07
Cucumber Swimming Shark

Another project using effervescent tablets.
This one could be used as a substitute for the
rain gutter regatta. It's cheaper and the boys
could build their sharks right at Pack
Meeting.
Small cucumber or zucchini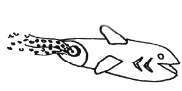 Paring knife
Toothpicks
Effervescent tablets
Peanut butter
Body of water or punch (punch bowl-sized
or larger)
Cut a "V" shaped notch in the large end of
your cucumber. Just behind the notch, cut
two slashes for gills. Carve out two holes
for eyes. Cut three slices from the back end
for fins, and attach with toothpicks. Put a
dab of peanut butter on the effervescent
tablet and attach to rear of shark. Warm
water makes the shark go faster. The water
or punch will be inedible if you use Alka-
Seltzer tablets, but alright if you use straight
bicarbonate of soda tablets.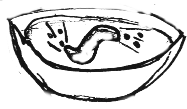 Baited Fishing Poles

Pretzel rods
Gummy worms


Shoestring licorice
Cut shoestring licorice in half. Have boys
practice tying knots with one piece. After
they have mastered the square knot and a
double half hitch, let them eat that half. Tie
one end of the licorice to one end of the
pretzel using a double half hitch. Tie the
gummy worm onto the other end of the
licorice with a square knot. Make sure each
boy has his knots right before he can eat his
fishin' pole.

Spinning Eels

When you want to do a little ahead-of-time
work, this is a fabulous "special effects"
project. Make or buy cookies shaped like
S's. Using small pieces broken off an
effervescent tablet (like Sodium bicarbonate
or Alka-Seltzer) push one piece into each
end of the S-shaped "eel." Place it in a bowl
of milk. The cookies should start spinning.
Experiment with different angles to increase
speed, etc. When fizzing stops, cookie is
eaten, and a new one dropped in. The milk
will be inedible if you use Alka-Seltzer
tablets, but all right if you use straight
bicarbonate of soda tablets.
Seaside Snacks

This is a great poolside or hiking snack as it won't spoil or melt in the
heat and has good nutritional value as well. Makes 6-1/2 cups mix.


1 cup each of: Pretzel sticks (driftwood)
Fish shaped crackers Cheerios (life preservers)
Roasted peanuts (beach pebbles) Raisins (sand fleas?)
Chow mien noodles (seaweed) 1/2 cup dried pineapple,
Cut into small wedges (seashells). Mix. Store in snack sized resealable bags.
References / Source:
Great Salt Lake Council