OPENING, CLOSING, AND FLAG CEREMONIES /04-07
OPENING, CLOSING, AND FLAG CEREMONIES

CUB MASTER MINUTE "DRUG TO CHURCH "
FLAG CEREMONY "QUALITIES OF BEING A GOOD CITIZEN OF THE US"

All: I am a citizen of the United States of America
#1 I hereby pledge myself to live my life to the honor of my country
#2 I will be honest because my country has no need for a thief.

#3 I will speak the truth because my country has no need for a liar
#4 I will be brave because my country has no need for a coward.
#5 I will work because my country has no need for a lazy citizen
#6 I will help my country remain the greatest nation on earth in industry, wisdom, honor,
and goodness
CUBMASTER MINUTE

"WALKING A NARROW BRIDGE WITH SHARKS BELOW"

Cut shark fins from poster paper and staple them to the side of a 2x4 so they
stand up. Spread a blue tarp on the floor, crumple it up to look like waves,
and put shark fins in 'water'. Lay a 2x4 across for a bridge.

Tell boys that in order to get their awards they are going to have to cross the bridge
without falling into the water, and the sharks are waiting to eat them. Say, "this is what
life if like. If you get involved in tobacco, drugs, cheating in school, stealing, or telling
lies [use some things that are problems with the kids in your area], you are falling off the
bridge and you might drown or be eaten. "
"Cub Scouting helps by teaching you to be honest, do your best, and do good things.
Your parents or cub leaders will guide you, so trust in them." [Have a parent and cub
leader come and hold the boy's hands on either side as he walks across making it easy to
walk across and get his reward].

CUB MASTER MINUTE "DRUG TO CHURCH "

"I had a "drug" problem when I was a young person
I was "drug" to church on Sunday morning.
I was "drug" to church on Sunday night.
I was "drug" to scouts on Wednesday night and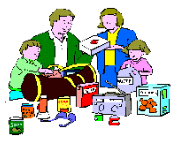 campouts on some weekends.
I was "drug" to reunions with our relatives.
I was "drug" to the family home evening, family Bible
reading and daily family prayer.
I was also "drug" to the woodshed when I told a lie,
got a bad report card, was disrespectful to adults
or disobeyed my parents.
Those "drugs" are still in my veins, and they affect my behavior in everything I do, say and think. They are stronger than cocaine, crack, or heroin.
If our children had this "drug" problem, America would certainly be a better place."

References / Source:
Great Salt Lake Council