He's Just A Boy

Get to understand the lad-- He's not eager to be bad.
If the right he always knew-- He would be as old as you.
Were he now exceedingly wise-- He'd be just about your size.
When he does things that annoy-- Don't forget he's just a boy.
Could he know and understand-- He would not need a guiding hand.
But he's not you and hasn't learned-- How life's corners must be turned.
Doesn't know from day to day-- There is more to life than play.
More to face than selfish joy-- Don't forget he's just a boy.
Being just a boy, he'll do-- Much you will not want him to.
He'll be careless of his ways-- Have his disobedient days.
Things of value he'll destroy-- But reflect, he's just a boy.
Just a boy who needs a friend-- patient, kindly to the end.
Needs a friend who will show-- Him the things he wants to know.
Take him with you when you walk-- Listen when he wants to talk.
His companionship enjoy,-- Don't forget, he's just a boy.

A Good Turn

A Good Turn that we do in our daily living is the thing that makes us useful. The Good
Turn enables us to be useful in our home, school, church, community, and our country. The
Good Turn raises us above the ordinary person. It makes our lives worthwhile.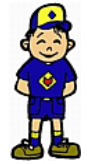 References / Source:
Great Salt Lake Council