FAUX STONES FOSSILS
Coffee dough has a natural look when it
dries.
The speckles in this dough will look as if it
is made from stone.
1 c. flour
1 c. coffee grinds (used)
1/2 c. salt
1/4 c. sand
3/4 c. water
Mix all ingredients together. Knead on a
floured surface like bread dough. Can be
stored in a plastic bag or tub. Air dry
stones/fossils.

DINOSAUR BONES

4 egg whites, room temperature
1/2 t. cream of tartar
1 c. powdered sugar
1 t. vanilla
Oven: 200 degrees. Line cookie sheets with
parchment paper set aside. Beat egg whites
in a small bowl, until foamy. Gradually add
cream of tartar, then sugar, continuing
beating until stiff peaks form. Fold in
vanilla. Use a re-sealable baggie, put in
foam, and cut off one corner. Pipe onto
prepared cookie sheets in the shapes of bones.
Bake for one hour. Turn oven off. Leave in
the oven with the door closed for one hour more.
Cool completely. Carefully remove from
cookie sheet. Store in an airtight container for up
to one week.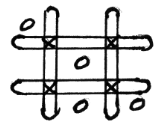 STICK-TACK-STONES
Find ten rocks that are flat and smooth.
Paint half of them with acrylic paints one
color and the other half, another color. Find
smooth sticks and break them into 12"
lengths. Paint them with bright colors.
Using twine, lash the sticks together to form
a tick-tack-toe grid. You can also just lay
the sticks on the ground to make your game
portable.
OWARE…MANCALA (from Ghana)

One egg carton
48 small rocks
one bowl for each player
Put four rocks in each cup of carton and each
player takes aside. Player ONE picks up all
the rocks from any one of the six cups. He
circles counterclockwise around the carton,
dropping one rock in each cup. When all the
rocks have been dropped, he picks up all the
rocks in the cup and continues circling
around the carton. Repeatedly dropping and
picking up rocks until he drops his last rock
into an empty cup. Then player TWO does
the same thing. When a player drops his last
rock and it makes a group of four, he
captures these rocks. When eight rocks are
left in the carton, whichever player captures
the next four also gets the final four. The
winner is the one with the most rocks
captured at the end of the game.

References / Source:
Great Salt Lake Council