Instant Fossils

Use clay that will harden by itself, or mix "rock" dough from 1 cup flour, 1/2 cup salt, and 6-8 tablespoons water. (Use just enough water so the dough holds together without being sticky.) Squeeze the clay or dough in your hands until it is soft and smooth. Then pat it out on a piece of waxed paper or a cookie sheet--not too thin, or your fossil will crack easily. Press a leaf, or a toy dinosaur, into the clay, then lift it off so that the shape stays in the clay. Scratch in the date, your name, or the plant name, if you wish.
Archeology Dig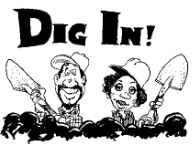 Cub Scouts love the thrill of the hunt. This is an activity they will really enjoy. Fill a large box, a wheelbarrow, or a small wading pool with damp sand or sawdust. Mix in a bag of small plastic dinosaurs, and possibly a handful of change (it keeps it interesting). Pat the sand or sawdust down tight and let it dry overnight. When the boys come let them have a miniature dig with paintbrushes and toothpicks. The idea is to not disturb any item until after that item has been cataloged by the den leaders.
Dinosaur Match Game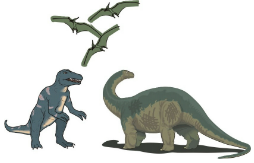 Have the children make their own Dinosaur Match Game. Cut out 20 cards, each 3" square. Draw ten dinosaurs, one per card, then duplicate those pictures on the next ten cards. (Use stencil patterns, computer printouts, or let the children just draw their own.) Write the name of the dinosaur on each picture. The library has lots of books on dinosaur identification. Laminate cards with contact paper if desired. You are ready to play!! The game is played by laying all cards face down, then each player turns over two pictures at a time, trying to find a match. If their cards match, they remove them. These cards can also be used like 'Go Fish'; or by removing one of them from the deck, play 'Old Fossil' (like Old Maid.) Have fun!
References / Source:
Great Salt Lake Council