WINTER SCENE WATER GLOBE

Materials Needed:
1 jar (baby food or jar of your choice with lid
Water
Sparkle Flakes and/or glitter
Figures to make the scene (small figures that are water safe). People, trees, fences, etc.
Glycerin (in pharmacies)

Instructions:
1. Clean the jar and the lid
2. Choose the figures or items to be put in.
3. Arrange them on the inside of the jar or the lid. Glue them in with hot glue. Supervise
the glue gun.
4. Fill the jar with water and put the Sparkle Flakes or glitter in the water.
5. Screw on the lid and hot glue it around the lid. Be sure that no water comes out of the
lid
when the jar is turned upside down.


PAPER CLIP ICE SKATES (PAIR)

Materials Needed:
2 paper clips
Felt (color of your choice) Pattern
Craft glue

Instructions:
1. Trace the pattern onto the felt with a pen or
marker
2. Cut out, leaving the bottom uncut.
3. Fold the skate in half at the bottom and insert
the paper clip.
4. Glue the two halves together with a ribbon or
string or yarn at the top.
5. Let the boys decorate it any way they want.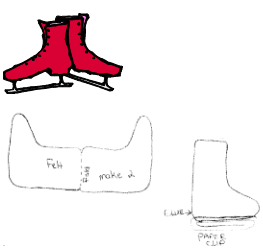 References / Source:
Great Salt Lake Council