Boys love to invent and create. Given an opportunity, they will use the simplest items to invent a
new toy or recreate an older one. They will have hours of fun coming up with new uses for
common everyday items. As they do they can learn more about the great inventors of our time,
and of the past.

Digital Images--Many modern printers and computer screens create
images made of dots. Using three flashlights and a graph, show how this
is done. You will need red, yellow, and blue transparent cellophane and
three flashlights. Attach a piece of
cellophane over the end of each
flashlight. Shine the flashlights onto a
piece of white cardstock, in a darkened
room. You will be able to see the three primary colors. Position
the flashlights so that the three circles of colored light overlap
in a cloverleaf pattern. Overlapping colors mix to give new
colors. To see how an image is broken down into a digital
image you will need, a ruler, tracing paper, photograph, black
felt pen. Measure lines 1/4 in. apart to cover the tracing paper in
squares. Put the paper over the photograph. Use the pen to fill
each dark square. Leave each light square white. The digitized
image contains less detail than the original photo. You could
increase the detail by using a greater number of smaller squares.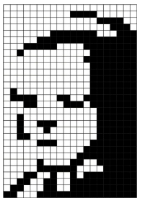 Gizmo Creation--Put together a kit for each boy consisting of recycled odds and ends. Have
them use these items to create an invention of their own.
Slingshots and Rubber-band Guns—


Boys love to make and use slingshots and rubber-band guns. This can
be a good time to introduce them to safety rules. Make these by
finding branches that are the right size and shape, and finish
appropriately. With either toy, it is very important to
help the boys make their toy and then learn to use it
safely.

Games of Skill--There are so many variations on games of skill that a
book could be written on them. Pictured is one of the simpler games.
Cut the pieces from wood and have the boys sand and paint them
before putting the game together. The goal is to catch as many of the
rings on the triangular piece as you can.
References / Source:
Great Salt Lake Council