In "Cub Scout Round-Up" it is all about ropes and leather.

Jump Rope

Materials:

Nylon or cotton rope -- three pieces at 8' each
Permanent markers
1/2" hose/pipe -- two pieces at 5" each
Scissors

Instructions:

1. Measure and cut pipe and rope to length.
2. Color the 5-inch hose or pipe with permanent markers.
3. Tie the three pieces of rope together at one end. Make several knots to secure ends.
4. Slide both hose handles onto the rope.
5. Braid rope together. Because of the length, you may need a friend to help keep ropes
from getting tangled.
6. Tie several knots in the braided end of the rope.
7. Knot rope on the inside of each of the handles (pipes) so that they will not slide around as
you jump.

Tips:

You may need a friend to help keep the rope untangled as you braid.
If the rope you choose is nylon, you may want to melt the end of the rope with a lighter to keep it
from fraying. Have an adult do this!
For hose/pipe you can use refrigerator water-supply tubing or PVC pipe, depending on the
the thickness of your rope.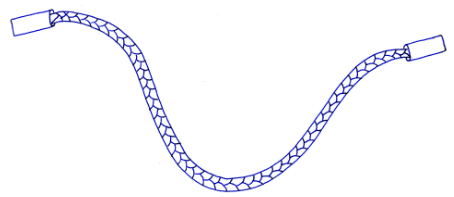 References / Source:
Great Salt Lake Council