Campfire Hats  

1/2 yard of orange felt
two 9-by 12-inch sheets of yellow felt
1 yard of green felt
Fabric glue or hot glue
Small twigs
6 to 8 mini marshmallows
2 large paper clips
Cut a strip of orange felt approximately 51/2 inches wide by 16 inches long. Cut the
felt widthwise into flame shapes. Next, cut yellow felt triangle flames shapes, about
1 ½ inches wide at the base by 4 inches tall, and glue 1 to each orange flame. Lay the
felt with the yellow flames facing up and glue short twigs between the flames. Next,
cut a green felt strip 2 1/2 inches wide by 26 inches long and glue it along the bottom
of the orange flames, sandwiching the twigs. The flames and twigs should poke out
from the top of the green strip. Lay it flat to dry. Once the glue dries, stick mini
marshmallows on the twigs, then wrap the green strip around the camper's head. Use
paper clips to secure the hat in place and trim off any excess.

Bandanna Sit-upon

2 bandannas
embroidery floss or yarn
embroidery needle
adhesive Velcro tab
soft grasses, leaves, or moss
Place 1 bandanna on top of the other and stitch them together on 3 sides. On the
open side, attach a Velcro tab to make a simple closure. To fill the pillow, gather
the softest grasses, dead leaves, and moss you can find, carefully broken into small
enough pieces so that they won't pierce the fabric. At day's end, just shake out the
filling and fold up your sit-upon for the next day's adventures.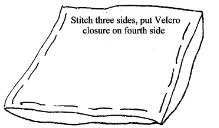 References / Source:
Great Salt Lake Council