Cubs in the Kitchen 2/04-06
White Chocolate Baby Dinosaur Egg

1 plastic sugar egg mold (available in a craft or cake decorating store for about $2.00-3.00.)
Nonstick cooking spray
1 pound white chocolate coating (Ap'peels or other wafer-type easy melt chocolate flavored
disks)
cotton candy
candy baby dinosaur (gummy, sour gummy, or sweet-tart-types all work.)
Melt chocolate over medium heat in a double boiler or in
the microwave until evenly smooth. Lightly coat the inside of the
mold with non-stick spray. Pour about 1/2 cup melted chocolate
in 1/2 mold and "roll" mold around so gravity makes the
chocolate flow over the entire surface. Pour in more to thicken
any thin spots if necessary. Repeat with the other half.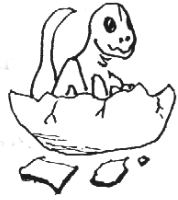 Refrigerate 10-15 minutes. Save 2-3 tablespoons of chocolate to
seal the egg. When completely cool, invert onto a plate. If it doesn't
slide out immediately, dip each outer egg half in warm water for
a few seconds and try again. If it cracks, re-melt and start over.
Place cotton candy "nest" in the bottom half of egg, place baby
dinosaur in the nest and cover with the top half of egg. Seal the seam
with remaining melted chocolate, and smooth with your finger.
Wrap in decorator foil or cellophane to give as a gift, or just rap on a hard surface and watch as
your baby dinosaur hatches!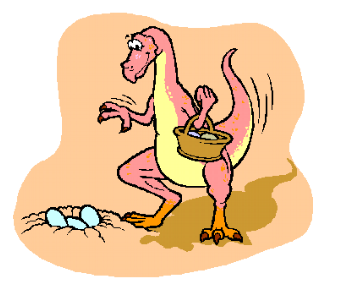 References / Source:
Great Salt Lake Council