OPENING, CLOSING, AND FLAG CEREMONIES/05-08
CLOSING CEREMONY-- SONG
SCOUT VERSION OF CLEMENTINE

1. In a cavern, in a canyon, excavated for a mine,
Lived a miner, forty-niner, And his daughter Clementine.
2. Light she was and like a feather but her shoes were number nines,
Herring boxes without tops, sandals were for Clementine.
3. Led the ducklings to the water every morning just at nine,
Stubbed her toe upon a splinter, fell into the foaming brine.
4. Heard her calling, father, father, and her voice was like a chime,
But alas, I was no swimmer, thought I'd lost my Clementine.
5. Then a hero, handsome hero, came arriving just in time,
Dove, he into the raging water and he saved our Clementine.
6. Then he left her for another did she sink into decline?
No, the duckling found a vein of purest gold for Clementine.
7. Listen, Cub Scouts, heed the warning, to this tale from forty-nine,
Artificial respiration was what saved our Clementine.

OPENING CEREMONY NAME THE FOLK HERO

1. Called 'little sure shot' as a child, she grew up to star in Buffalo
Bill's Wild West Show as a famous markswoman and horseback rider.
2. He once lassoed and rode a cyclone through four states and when he
leaped off it formed Death Valley, California.
3. This black, powerful, railroad, steel-driving man had a rock-drilling
contest with a steam drill and won by hammering with both hands.
4. He enjoyed the fruits of his apple orchards in the east so much, he
wanted to share his bounty, so he would take bags of apple seeds to the
west and plant them so they could have apple orchards there, also.
5. An expert hunter, sharpshooter, and scout, she risked her life to
nurse smallpox victims back to health in Deadwood, S. Dakota.
6. He killed a bear when he was three. He became a member of
congress from his State and died in the battle at the Alamo.
7. He was a very large lumberjack, went far north, and found
his lifelong companion, a blue ox named Babe.
8. He lived on his father's ranch in California, would hide his
identity with a black mask, and ride to protect the governor's
victims.

TALES FROM THE
PAST
FLAG CEREMONY

#1. I am Paul Bunyan. I
have faith—anything is
possible.
#2 I am Pecos Bill. I
have courage—courage
to battle rattlesnakes
and tame tornadoes.
#3 I am John Henry. I
have strength—the
strength to overcome
obstacles and never
give up.
#4 I am Davy Crockett.
I am an explorer who is
always learning new
things and blazing new
trails for others.
#5 I am Johnny
Appleseed. I am a
planner—always
willing to share and
make the world a better
place.
#6 As Cub Scouts let us
learn the traits of these
heroes so that we can
help our country and be
good citizens. Let us
pledge…...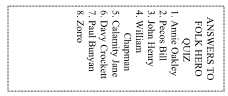 References / Source:
Great Salt Lake Council