OPENING, CLOSING, AND FLAG CEREMONIES/04-08
"TRUE CHAMPIONS"
SPORTS FLAG CEREMONY

#1 Have you ever thought about why we sing the


Stars Spangled Banner before sporting events?
#2 (With ball and glove) We're Americans before
we're Dodgers or Cubs. We don't want to
forget in the heat of competition that the ideals
of sportsmanship and the ideals of Democracy
are pretty much the same.
#3 (With golf club) We believe in ideals like
HONESTY. Roberto de Vicenzo may have lost
the Masters Tournament when he told an official
that he touched the ball accidentally, but today
he symbolizes the honesty of sportsmanship
#4 (with basketball) We support ideals like FAIR
PLAY. Every wonder why they're called
"fouls"? If you get too many of them you're out
of the game. Fair play means giving the other
guy an equal chance.
#5 (With tennis racquet) We seek for ideals like
RESPECT FOR OTHERS. Winning really isn't
everything, And it definitely isn't the only thing.
Did we like Crissie Evert because she won, or
did we like her because of her unfailing
courtesy for others?
#6 (With ice skate) Did we admire
Apollo Ohno in these past Olympics
because he won the gold, or did we
admire that when he fell, he scrambled

for the finish line on his knees to place
without giving up, and took the
decisions of the judges with good grace and
acceptance-- while another athlete was having a
tantrum at their decision?
#7 It isn't whether you win or lose, it's how you
play the game, whether on the field and off.
(All lay down their equipment and join in pledge)
CUB MASTER MINUTE
"WAKE UP!"

#1 Wake Up !! Decide to have a
good day. This is the day the Lord
made; let us rejoice and be glad in it.
#2 Dress Up !! The best way to dress
up is to put on a smile. A smile is an
inexpensive way to improve your
looks.
#3 Shut Up! Say nice things and
learn to listen. God gave us two ears
and one mouth, so He must have
meant for us to do twice as much
listening as talking.
#4 Stand Up!. for what you believe
in. Stand for something or you will
fall for anything.
#5 Reach Up !! for something
higher. Trust in the Lord with all your
heart, and then try and work at a thing
until you succeed at it.
#6 Lift Up !!. your Prayers.
Do not worry about anything; instead
PRAY ABOUT EVERYTHING.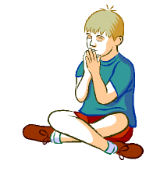 References / Source:
Great Salt Lake Council