CUB SCOUT SKITS & STORYTELLING/05-07
JOKES / DEN CHIEF RUN-ONSÂ Â 

1. Is this water healthy for swimming?
2. What do baseball players eat on?
3. What do you get when you cross an answering
machine and fat football player?
4. What charges did the police bring against the
baseball player?
5. What's the quietest sport in the world?
6. You want to hear something funny? My sister
thinks a football coach has four wheels!

SKIT --- THE EIGHT DOCTORS

NARRATOR: May I present the 8 best Doctors, give heed to their words.
1st doctor- I am Dr. Rest…I cure you when you are tired.
2nd doctor- I am Dr. Exercise…I make you strong.
3rd doctor- I am Dr. Fresh Air… I give you vigor.
4th doctor- I am Dr. Bath... I keep you clean.
5th doctor- I am Dr. Sleep... I make you well and help you grow.
6th doctor- I am Dr. Sunshine... I make you cheerful.
7th doctor- I am Dr. Proper Food… I help you live longer.
8th doctor- I am Dr. Play… I keep you happy and make you smile.
Doctors in unison: Employ us, doctors, every day, we help you all and ask no pay.

SKIT ---THE BIGGER JERK

A simple, one-person skit that is great for those loose moments at pack meeting or at a
campfire.
Cast: 1 Person, imaginary mower, "Volunteer," "Victim"
Person: (Groans and grunts as he's pushing a heavy mower) "These old models, I tell you.
They are so heavy, and they don't work well. Maybe I should buy a new mower this week.
Well, let's get going." (Pulls ripcord to start, but it won't start. Makes appropriate sputtering
noises. Tries again and again.) Get someone up from the audience to try. They jerk a few
times and it still won't start. Get your "victim" to come up and give it a try. On the first jerk, it
sputters to life [you are the sound effects].
Say, "I guess all I needed was to get a bigger jerk!"

SKIT --- BIG GAME HUNTERSÂ Â 

Two to four hunters talking together. Each says that he is packing a
heavier and more powerful gun to shoot with. The first starts out with a
small handgun and the last ends up with a very powerful rifle,
shotgun, whatever. Two others come over who have overheard the
hunters and want to settle a bet. Are the hunters going after wolves or
moose?
One of the hunter's replies, "Why no, we are going after mosquitoes!!"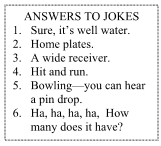 References / Source:
Great Salt Lake Council