Cubs in the Kithchen 02-08a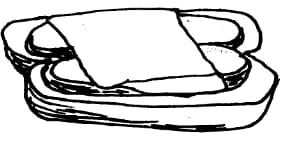 FANCY FRANKS

6 Buns halved and buttered lightly
6 Wieners split almost through lengthwise
1 Onion chopped
6 Slices Velveeta or American cheese
Ketchup
Arrange bun halves on broiler pan cut side
up. Place wieners, spread open, on buns.
Sprinkles with onion and cover with cheese.
Pour ketchup over cheese. Broil until
cheese melts. Serve hot. 6 servings.
References / Source:
Great Salt Lake Council