CUBS IN THE KITCHEN/05-09
Beef Jerky  


2 Tbsp. liquid smoke
1/4 cup soy sauce
1 tsp. onion powder
1 tsp. garlic powder
1 Tbsp. salt
1 tsp. pepper
1/3 cup water
Use a very lean boneless rump roast. Cut it into very thin 2" strips. Cut with the grain. Marinate
overnight in a double zip-lock bag in the refrigerator. Shake every few hours. Place in the
dehydrator. Dry for 2 or 3 days. Follow directions for the dehydrator.

Shepherds Pie  


1 lb. ground hamburger
1 pkg. green beans
4 potatoes cooked and mashed
1 cup shredded cheddar cheese
Cook the hamburger, season with salt and pepper. In a large casserole dish, layer the hamburger,
then the green beans, and then the mashed potatoes. Top with cheddar cheese. Bake at 350
degrees for about 20 minutes, or until the cheese is melted.

Easy Chili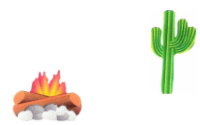 1 1/2 lb. ground beef
1/2 tsp. garlic salt
1 medium onion
2 cans pork and beans
1 can kidney beans
2 small cans of tomato sauce
1 can of water
1 pkg. Lawry's chili seasoning
Brown ground beef with onion and salt. Add the rest of the ingredients. Bring to a boil, heat
through. Makes a large pot.

Easy Trail Mix Cereal Bars  


2 Tbsp. margarine
1/2 cup peanut butter
4 cups mini marshmallows
6 cups of fruit and bran cereal, crushed
Place margarine and peanut butter in a microwavable bowl. Microwave on medium heat for 1
minute. Add marshmallows, toss to coat. Microwave an additional 1 1/2 minutes, or until the
marshmallows are puffed. Stir until well blended. Add the cereal. Mix well. Press cereal mixture
firmly into 9-in. square pan. Let stand for 1 hour or until firm. Cut into 20 bars, wrap in plastic wrap
or serve immediately
References / Source:
Great Salt Lake Council