Welcome to Cub Rock. Learn about prehistoric times with natural materials for table settings,
toys, clothing, school supplies, vehicles. Explore geology and learn about dinosaurs, have a
scavenger hunt.

What fossils can you find?

Credits: Pack-o-Fun, BHG: Kids in the Kitchen, Leisure Arts: The Perfect Party Planner, Stefan
Koter. The Great Book of Dinosaur Crafts, FBNR. com Birthday Parties for Kids, Jill Frankel
Hauser. Kids Crazy Concoctions, Sandra and Linda's own creative ideas.
EGG-CARTON DINOSAURS

Long Dinosaur
2 egg cartons
scissors
knife
all-purpose glue
art supplies
tape, wallpaper paste
PET ROCKS

Rocks
Paint
Glue


Choose the rock that gives character and
meaning to you. Decorate or paint it as you
see fit. See ours at the display table.
ROCK COLLECTIONS

A favorite rock collection can be displayed
in many ways. An egg carton can be used, a
jar of water with the rocks inside, or an old
cigar box.
ROCK PHOTO HOLDER

Fist size rock
40" to 50" of 18 gauge plastic-
coated wire
ruler, nail clippers
round nose pliers
favorite photos
Use a clean rock. Wrap the rock with 30" to
40" of wire. Wrap around the rock, so both ends
are at the top, with one 3" wire piece.
Tightly twist together once. Wrap long wire
length around the rock in opposite direction.
Twist together at top of rock using 3" length
end. Wrap around one more time in another
direction. Spiral wrap long wire. Use
remaining 10" length and thread through
center wires under twist. Twist together
tightly. Spiral wrap each end. Insert photos
in spirals. See the drawing below.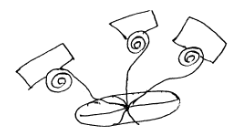 References / Source:
Great Salt Lake Council