MUSICAL PIPES

You will need 2- 10' pieces of 1/2" inch diameter galvanized
conduit (EMT) from your local hardware store. Cut the pipe to
the exact measurements shown. (Even 1/8 inch off will change the
pitch). Drill a hole for string 1 1/2 in. from the end of the pipe. For
best results, use a drill press. You may build a frame to suspend
the pipes, or players may hold them individually in the air from
the string attached so they are free to vibrate when played. A
spoon or large nail will produce the best quality tone. When
striking, the pipes hit them in the center of the pipes. HAVE FUN
WITH THEM...THEY ARE MOST ENJOYABLE.

The following chart will show you which note will come from
each length of pipe. Number your pipes accordingly. If you are a
clever musician or know one, you can even make more pipes for
more added musical tones.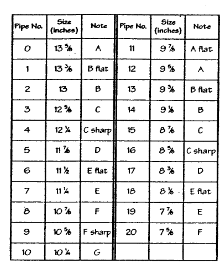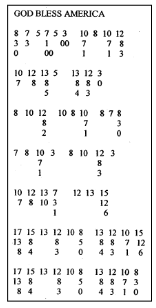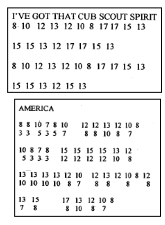 References / Source:
Great Salt Lake Council