This is a pattern for a diamond crystal. When put together you can make a neckerchief slide for
the 75th anniversary of Cub Scouting. Make a copy of this page onto cardstock. Cut out the pattern
and the 75 years diamond logo. Now, be sure to cut down to the dotted line on the tabs. Folding
over on each dotted line, crease up. This way all the lines will be inside your diamond at the
end. Next, with a glue stick glue the tabs H to H, J to J, K to K, L to L, M to M, N to N, and P to
P. You now have the bottom done. Next, glue A to A, B to B, C to C, D to D, E to E, F to F, G
to G, I to I, and O to O. With the last three points, glue each on top over the other to form a flat top.
Now glue the 75th logo on one of the rectangles and on the opposite rectangle on the back. Hot
glue a slide, which can be made out of pipe cleaners or PVC pipe. You can also enlarge this and
make large diamonds to decorate your tables. Put a dowel the height of your diamond through
the tip to support. You can then glue the last three tabs to the dowel.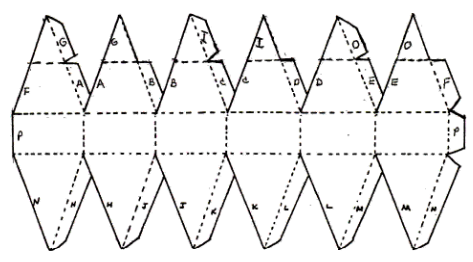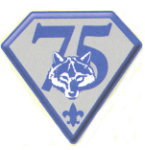 References / Source:
Great Salt Lake Council