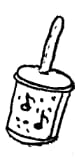 MARACAS

What you need:
Film containers
Popcorn kernels, rice, or beans
Glue…knife
Popsicle sticks
Spray paint or musical stickers
Directions:
Fill one-fourth of each container with the kernels
or beans, etc. Place a little glue on the inside of
the lid and close tightly. With a knife, make a
small slit in the lid and close tightly. Put the
popsicle stick inside the lid. Decorate as
desired.
To play, shake for noise.
References / Source:
Great Salt Lake Council