HOLIDAY & SEASONAL CRAFTS
God's Eye (Cinco de Mayo)  

• String or yarn in different colors
• 2 craft sticks
• Glue
• Scissors
1. Glue the craft sticks together in a cross.
2. Take one color of yarn and wrap it over and around one stick, then over and around the next,
over and around the next, and so on. Keep doing that until the color is used up.
3. Tie a different color string onto the old one with a tight knot.
4. Repeat steps 2 & 3 until complete.

Coffee Filter Flower (Mother's Day)Â Â 

• Coffee filters
• Big washable color markers
• Spray bottles of water
• Thread
• Green pipe cleaners
1. Mark on 2 or 3 coffee filters with the washable markers, big blotches are fine.
2. Place the filters flat and stack them.
3. Fold them (together in their stack) in half, then in thirds. Then roll the filters at the fold
around the end of the pipe cleaner. Wrap with thread to secure.
4. Spray filters with water and watch the colors fade into each other.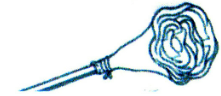 References / Source:
Great Salt Lake Council