HOLIDAY & SEASONAL CRAFTS 2/04-04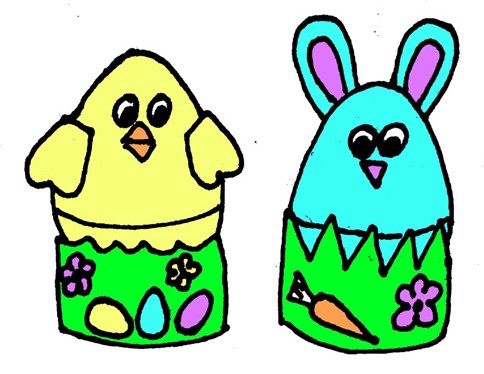 Easter Egg Chick and Bunny
Materials: Plastic eggs, green craft foam, several different colors of craft foam, wiggly eyes, toilet paper tube, pencil, scissors, tacky glue, emery board, or sandpaper * Directions: Cut a 1½-inch length of the paper tube. Cut a piece of green craft foam about 2 inches by long enough to fit around the tube. Cut zigzag pattern on one long side of craft foam to look like grass. Glue around the tube. Use a rubber band to hold it in place until the glue dries. Decorate grass with shapes (eggs, flowers, carrots) cut from craft foam. For chick: cut yellow wings and orange beak from foam. For rabbits: cut rabbit ears, and a triangle nose. Sand the area on the plastic egg where parts will be so the glue will stick. Glue foam parts and wiggly eyes on. To make animals stand up, place them in the grass stands.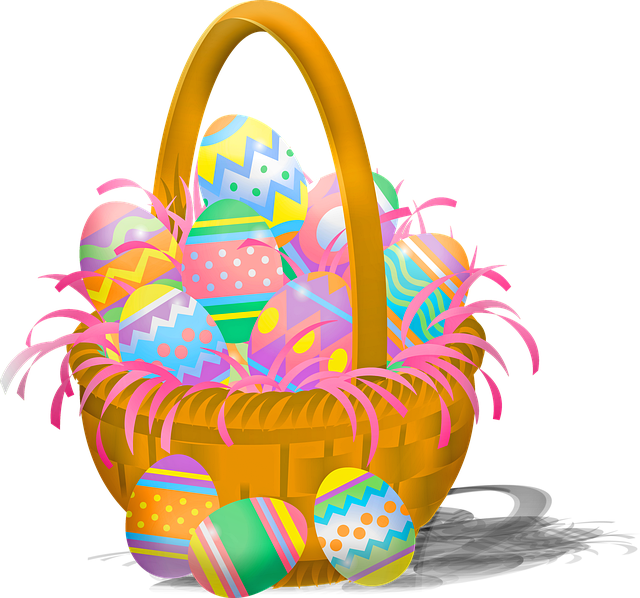 Paper Plate Basket
Materials: 2 heavy-duty paper plates, scratch paper, ruler, pencil, scissors, a paper punch, ¼" ribbon, stapler
Directions: Cut a circle out of scratch paper slightly smaller than the plate. Fold the circle in half, then in half again, and again, and again (4 times total) so that circle is divided into 16 equal wedges. With the circle folded, mark 1 ½" from each side of the center point. Cut point off at markings. This should leave a 3" hole in the center. Place paper circle centered on the bottom of the plate. Trace the center hole, then make a mark on each end of each fold line (inside the hole and outside edge). Connect marks with a ruler, so the plate is divided from the rim to the circle into 16 equal sections. Make a circle about halfway between the center circle and the outside rim of the plate. Cut the straight lines from the rim of the plate to the center circle. Fold each section into the center along the center circle line, forming a basket. Punch a hole in the center of each section on the halfway circle line. Thread ribbon through holes, making sections overlap each other. Tie ends into a bow. Cut ¾" strip from the center of the second plate. Staple ends on two opposite sections to form the handle.