Cubs in the Kitchen/04-06
June 3 - Repeat Day - Pick out a word and use it as often as you can all day.
June 14 - Flag Day
June 15-21 Hug Holiday - Use any excuse to hug those you love.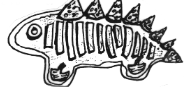 Design-o-saurus Pizza

Roll out pizza dough and cut into dinosaur
shapes with large cookie cutters or knife.
Spread with sauce and let the boys create
their own dino with toppings like olives,
green peppers, pineapple, onions, and
pepperoni cut into wedges. Sprinkle with
grated cheese and put in a 400-degree oven
for 10-15 minutes.
Earthquake! Popcorn

Plastic wind up toy with fairly
large "key"
Stiff cardboard
Glue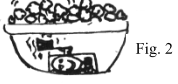 Modeling clay
Deep bowl
Popcorn
Buy a cheap plastic wind up toy with a large
wind-up key. Glue an "L" shaped piece of
cardboard to the key as shown in fig. 1.
Place a good-sized blob of clay in the
bottom of the bowl to hold the toy in place
while you are winding it up. If the toy has
feet, the popcorn may get jammed in them
and stop the production so cover toy with a
little cardboard box cover. When ready to
serve, crank toy up and quickly pour in the
popcorn. The earthquake will shake rattle
and roll the popcorn to the delight of
budding geologists and paleontologists
alike.
Pre-Hysterical Creatures

Hershey's Kisses
Chenille Stems
Construction paper, felt, or craft foam sheets
Glue (low melt hot glue works the best, but
craft glue or glue sticks also work)
Scissors
Markers, crayons, paint, or pastels

Googley eyes (optional)
With the chenille stems bend, twist, or wrap
around a pencil to make legs, arms, antennae
or bodies. Make wings, eyes, or anything
else out of the paper felt or foam sheets.
Glue kisses for heads, tails, bodies, etc.


Pre-Cambrian Insects

These insects are easy and fast. Look for very soft gumdrops to make things easier.
Large gumdrops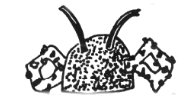 Small twist pretzels
Shoestring licorice cut into 1" lengths
Toothpicks or short skewers
Break pretzels into pieces that resemble wing shapes. (You may have to eat a few before you get
the hang of it.) Poke the ends into the sides of a large gumdrop. Use a toothpick or skewer to poke
two holes in the top and insert licorice antennae.
References / Source:
Great Salt Lake Council