PACK ADVANCEMENT CEREMONIES/05-09
As news of the gold discovery spread, thousands of men rushed into California to try to
get rich quick. Many found nothing but hard work and disappointment and even death. How
often do we rush to enter a lottery or gamble on something with a big pay-off in hopes to get
money without earning it. Most of these men then quit the goldfield, established a little ranch,
had their families join them, and lived a happy life without riches. We need to prepare ourselves
for honest work and train ourselves to enjoy what is really important in life.

Preparation:
1) Obtain a lasso (rope) for catching the boys.
2) Pack leaders dress in western garb (boots, cowboy hat, and large belt buckle).
3) Make a large sign saying, "Trading Post" and attach it to a wall or stage curtain.
4) Have awards for each boy wrapped in gold foil that is crumpled up.
5) One large pie pan, one large potato, dowel, and some flour.

Narration:
In the early days of what we now call Mexico, there was but a single tribe, the Nahua (Na-
HWA). The great peoples of Latin America are descended through them and conversed in
dialects that were descended from the mother tongue of Nahuatl (Na- HWA-tul). And like those
peoples, each Cub Scout can trace his path toward the Arrow of Light through a shared
beginning.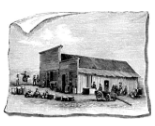 Presentations:
1) Trading Post - Cubmaster announces he ran out of money to
pay for awards so everyone is going to have to go to the
Trading Post. The first boy is introduced to the Trader.
Trader: What do you want? Cub: [name] Award. Trader: Like
this? Cub: Yes, (reaches for it-trader holds it back.) Trader:
Hey, wait a minute what did you bring to trade? Cub: I don't
know. Trader: Hmmm, how about those shoes, they look
pretty good............
2) Cubmaster dressed in Western clothes with a pie pan. Get down on the floor and pan for gold,
come up with a nugget (gold foil-wrapped awards) open it up, announce the boy's name. At the end
say, "All the things you have learned from earning these awards are like 'Gold Nuggets' and we
hope you will be rich with the knowledge you have acquired."
3) Brand all who receive awards. Cut a potato in half, not too long before pack meeting so it
stays damp, carve a Scout logo, put on a long dowel. Have an artificial fire, have the 'brand' in
the fire. Dip the potato 'brand' in some concealed flour and press against their backside.
Marked for life–no–just for a few minutes, it brushes right off.
-ValChatwin-

Parting thought:
Be nice to your kids, they'll choose your nursing home, or funny farm, whichever comes first.
-Uncle Johns-

References / Source:
Great Salt Lake Council