Our state and national parks are ours to enjoy. Take advantage of them when traveling.
Take time to drive through them. Teach your children respect for life. Be thankful for the
wildlife we still have. Enjoy the sight of a speckled fawn following its mother through the
woods trusting she will teach safety and life preservation. As the eagle soars through the skies,
admire his beauty and strength. Respect our forests and see that you do not defile them.
            If you make a fire, protect the trees by following the rules of fire building. Be sure you
put your fires out! When camping if you bring it in take it out! Dispose of your trash in an
acceptable manner. These forests and parks are for everyone to enjoy. You may only notice the
beautiful lakes, trees, deserts, mountains, or plains.
            To see the wildlife you need to accustom yourself to their habits. If you want to see deer
you would need to know what color their coats are at different times of the year. In winter they
are gray, in spring or summer, they turn to many shades of brown. You may see them early in the
morning, or at dusk or evening times. You may see a cougar running across a road, a bear
crossing a clearing, the mating dance of peacocks, or an eagle eating its prey. Maybe you'll see a
squirrel or a chipmunk looking for their dinner. It may be simple as a beautiful sunset or looking
at a beautiful mountain reflection on a lake or river.
            If you look out the window as you drive you may see many wonderful things even the
color of the mountains or hills. Notice the many different colors of green, orange, rust, browns,
reds, and yellows you will see. How about the different shades of blue of the rivers and lakes?
Driving with your family can be an experience you will never forget. Teach them the beauty in the
most wonderful way. We are so lucky here in Utah, we are not far from the mountains, or even
the canyonlands. Know your state and its parks, enjoy them and the lakes and reservoirs we
have, learn to boat, water ski, and fish. Have fun, but be safe!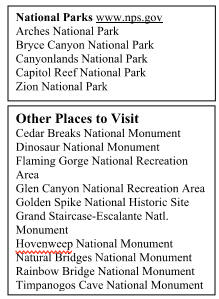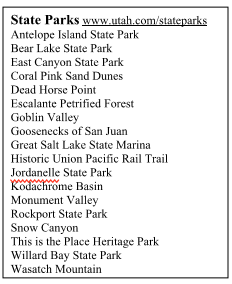 References / Source:
Great Salt Lake Council