SKITS AND STORYTELLING/04-09
SPACE THE FINAL FRONTIER— ANOTHER ADVENTURE WITH STAR TREK NARRATOR—

Space the final frontier. These are the voyages of the _____ Den from _________________, United States of America, Earth. Its mission: to explore strange new worlds, seek out new life forms and new civilizations, to boldly go where no Den Leader has ever dreamed of going. Capt. Kirk, Dr. McCoy, Mr. Spock enter with several Cub Scouts.
Dr. McCoy—Jim, when you had me beam down, I didn't know that you needed help with your Cub Scouts!
Capt. Kirk—But I need help with this. Besides, you've already beamed down.
Dr. McCoy--We have been through a lot together, but this is really beyond reason.
Capt. Kirk—Look, these Cubs are all signed up for Cub Scout Day Camp, and no one else could go. All I want is a little assistance.
Mr. Spock—Sounds logical to me.
Capt. Kirk—Then you'll try it?
Dr. McCoy—Well, I suppose. We are already here. How hard can it be?
NARRATOR--A few hours later.
Cub Scout #1—Can't we go to the snack bar, I'm hungry.
Dr. McCoy—We just barely ate lunch.
Cub Scout #2—I need to go to the bathroom and that place smells.
Mr. Spock—It is illogical that Tommy can't stay with us. Where is he---again?
Cub Scout #1—Can't we go to the trading post? This is boring.
Cub Scout #3—Look at this pretty plant I picked. It has three leaves and it is pretty and glossy. Can we eat the white berries?
Dr. McCoy—Good grief! It's Poison Ivy! Throw it down. Darn it, Jim, I'm a Doctor, not a Den Leader. I can't do this anymore. [Presses chest], Scotty, beam me up, beam me up right now.
Mr. Spock—For once I have to agree with the Dr., [hits his chest] Scotty, beam me up too.
Capt. Kirk—Hey, wait a minute, you guys— you can't desert me in the middle of this…..
By Val Chatwin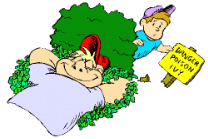 References / Source:
Great Salt Lake Council