OPENING, CLOSING, AND FLAG CEREMONIES/05-07
FLAG CEREMONY

  AMERICA and SPORTS  


A is for Athletes who do their best,
M is for Muscle training, putting us to the test,
E is for Exercise, building strength and brawn,
R is for Running, sprinting, and marathon,
I is for Individuals who always try to achieve,
C is for Courage to do and believe,
A is for Active, and active we'll be, proud to live in America, the home of the free.
 
OPENING OR CLOSING CEREMONY

HEALTH AND SCOUTINGÂ Â 

#1~ To keep your body strong and healthy is more valuable than being wealthy.
#2~ When you're fit you feel good. Please try to do the things you should.
#3~ It helps to lend a helping hand to needy folks around our land.
#4~ Eating the right food is always wise, and everyone needs exercise.
#5~ Stand on tiptoes, one, two, three; touch your toes don't bend you knee.
#6~ Run awhile, then slow you pace. Practice will help you win the race.
#7~ Scouting helps builds boys into men, and this is where it all begins.



OPENING CEREMONY

  SPORT HISTORY

This is like charades. Have boys act out the sport,
then when it is guessed someone tells more about it.
SWIMMING—Ancient people may have learned it
by imitating animals. It became popular in the
1800s. It became an Olympic sport in 1896.
BASKETBALL—James Naismith invented Basket
Ball in 1891, using a soccer ball and peach bushel
baskets.
SOCCER—The World Cup soccer game is the most
popular spectator event in the world. It is called
football everywhere else in the world. It is the
fastest-growing sport here in High School and
Colleges.
BASEBALL—People have played games with
sticks and balls forever. Alexander Cartwright is
credited as the father of organized baseball. His
team, the Knickerbocker Base Ball Club of New
York was formed in 1842.
    For the last sport, the boy stands pulling things
out of from his head. The audience will never
guess. He is 'stretching the mind' or 'exercising
the brain.'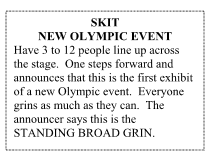 References / Source:
Great Salt Lake Council