OPENING, CLOSING, AND FLAG CEREMONIES/05-06
OPENING CEREMONY

Have everyone try to name as many
State and National Parks as they can
think of. You could do it as a game or
individually.
According to the travel council there
are 45 State Parks and 6 National Parks-
- Bryce Canyon, Arches, Capitol Reef,
Zion's, Grand Canyon, and Canyon
Lands. And don't forget our one
national recreation area, thanks to our
past President.

FLAG CEREMONY

Utah has more National and
State parks than any other state.
It is truly a beautiful place.
This flag ceremony is about the
Utah State flag.
#1. In 1896, when Utah was
made a state, the daughters of
the Utah Pioneers presented a
flag to the governor. It had a
light blue background and the
State seal on it.
#2. It was displayed at the
World's Fair in St. Louis, and
at the celebration for the
Louisiana Purchase.
#3. In 1903 someone
discovered that there was a
mistake in the state seal so
they contacted the governor
and it was decided that the
legislature should implement
a new flag for the state. The
old flag became the official
regimental flag of the
governor.
#4. The legislature got H. L. A.
Culmer, an artist, to design a
new flag and it is the one we
use today.
#5. In 1913 the state gave a flag
to the new battleship Utah to
fly from its masthead.
#6. How grateful we are to live
in such a beautiful state in the
United States of America
where it is such a privilege
and blessing to live. Let us
pledge.
Sing the new state
song that was
adopted March 15,
2003, "Utah, This
Is The Place" or
the State hymn,
"Utah, We Love
Thee."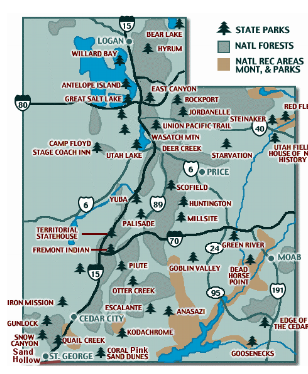 References / Source:
Great Salt Lake Council