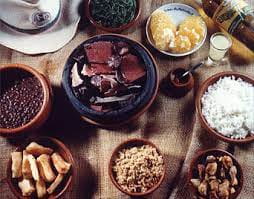 1 lb Black beans
6 c Water
1 lb Ham cubes -- 3/4 inch cubes
1 lb Pork loin -- 3/4 inch cubes
3/4 lb Italian sausage links -- cut into 1" pieces
1 pt Cherry tomatoes
1 Onion -- chopped
1 ts Red pepper flakes
6 Garlic cloves -- minced
1/8 ts Orange zest

1. Cover beans with cold water and soak overnight, or cover them with boiling water and let stand for 2 hours; drain. 2. Preheat the oven to 350 degrees. In a large dutch oven, combine all ingredients. Bring to a boil, skimming if necessary. Cover and transfer to oven. 3. Bake for 1-1/2 hours; remove the cover and bake for 30 minutes longer, stirring occasionally. Allow to cool slightly, then cover and refrigerate overnight. 4. Remove any fat from the surface. Reheat the feijoada slowly.