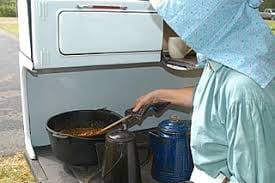 1 lb (1 1/2 cups) diced bacon
1 bn Chopped green onions (all Parts, about 1 cup)
12 oz Bottle of beer
1 c Light stock
1 c Barbecue sauce (of your Choice)
1 lb (about 6 cups) cooked white Beans
Salt and pepper
3/4 c Bread crumbs

Preheat the oven to 350. In a medium dutch oven, cook the bacon until crisp, about 5 minutes. Add the green onions and cook for 2 minutes. Pour in the beer, reduce by half, and add the stock and barbecue sauce. Fold in the cooked beans, and stir to coat. Season, and top with the bread crumbs. Place in the oven and cook for 30 minutes.