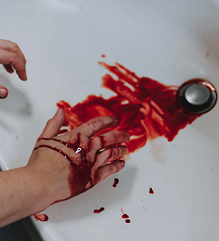 What is first aid makeup?
If you want to teach kids how to provide first aid without panicking, first aid makeup is an excellent way of replicating injuries.
Also known as moulage, first aid makeup is the art of making a non-existent injury look realistic. It allows you to recreate common injuries using different techniques.
Here are a handful of moulage simulations from the Center for Medical Simulation:

How to make fake blood for first aid training
If you want to make things more exciting and realistic, you can also make fake blood for first aid training. It would make the injury look more natural and compel kids to treat it immediately.
First off, you need some blue detergent and red food coloring. Drop the red food coloring into the blue detergent until you get your desired texture and color. It's a low-cost procedure, but it gets the job done.
If you're looking for something that provides a more watery texture, you can also try using a Karo-based recipe. You need the following ingredients:

● Karo syrup
● Red food coloring
● Blue food coloring
● Green food coloring
● Yellow food coloring
● Dish soap
Mix the Karo syrup and red food coloring well, then add pints of blue, green, and yellow food coloring right after. Make sure to stir them well since the food coloring tends to sit on top of the Karo syrup.
That should get you more watery fake blood. Try adding a few corn starch, cocoa powder, chocolate syrup, or creamer if you want to play more with the transparency and texture.
What types of injuries can you simulate with first aid makeup?
You can use first aid makeup in different scenarios:
1) Deep bruises
To create a realistic bruise, spray burgundy-colored hairspray at least two feet away from the skin. You can also use grease paint, but you need to apply a very thin white greasepaint coating beforehand.
Once you've applieread the white coating to your skin, use red and blue greasepaint for the bruise. Taper its edges into the white grease paint so it'll blend naturally with your skin color.
Keep the makeup smear-free by dusting it lightly with talcum.
2) Burn wounds
Spray a gauze pad with 99% alcohol and use it to clean the skin area. Let it dry for a few seconds.
Dab a rounded makeup sponge onto red makeup. Dab the sponge onto the skin to create redness.
Spray a little alcohol on another sponge and dab it in the same area. This will help activate the color.
Using a spatula, spread a layer of facial peel mask evenly. Make sure the edges are thinned out as much as possible. Dry the mask using a blowdryer.
All in all
With moulage makeup, you can create very realistic-looking injuries and provide your scouts with a complete picture of an emergency scenario. It will then allow them to recognize injuries and what they can do in actual situations.
Disclosure: Some of the links above are affiliate links. This means that, at zero cost to you, I will earn an affiliate commission if you click through the link and finalize a purchase.